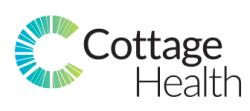 SUBSTITUTE TEACHER
2019-08-07 Cottage Health Santa Barbara
Description:
COTTAGE HOSPITAL CHILDREN'S CENTER SUBSTITUTE TEACHER POSITION
Join the team of Cottage Health professionals who care for our employee's children. We are looking for a substitute teacher to work in all of our classrooms, infant through preschool. This position is for approximately 8 – 10 hours per week with potential for additional hours to cover a leave.
Candidates need to have a minimum of 12 ECE units and 3 infant/toddler units. We are looking for dedicated and flexible individuals who have a passion for young children and good communication skills. We offer a warm family atmosphere, low adult to child ratios and the opportunity to learn and grow professionally while nurturing the children's growth.
All applications must be submitted online @ https://www.cottagehealth.org/.
Do not contact this company in solicitation of any product or service.